Applications for the 2024 scholarship will be accepted from November 6, 2023 until February 4th, 2024.

For applicants:  Download the reference instructions / Download the Dept.Chair validation form

IMPORTANT NOTE FOR APPLICANTS: The reference letter instructions and validation form are posted here for the convenience of students who will be applying, to allow them to provide this information to these individuals as soon as possible.  To retain confidentiality, the completed references and validation forms MUST be uploaded directly by the individuals who have been asked to complete them.  A secure upload link will be emailed to the individuals identified in the saved application file.

As these forms must be posted by February 4th, applicants will be able to see whether the files have been submitted by logging back into the application system and viewing their file.
Through a generous endowment from the Allan Carswell Family Foundation, starting in 2020, up to two Allan Carswell Physics Educator Scholarships, valued at up to $5000 each, will be awarded annually. This scholarship recognizes the critical importance and value of having people who are trained in, and passionate about, physics engaging young Canadians in the classrooms of this country.
Thus, these scholarships will be awarded each year to physics students with a strong academic record who are passionate about teaching. Applicants must have completed or be enrolled in the final year of a physics degree at a Canadian university and plan to enroll in a Canadian post-degree teacher training program that leads to a provincial teaching license, such as an After-Degree Bachelor of Education program.
Scholarship Recipients
2023 – TBA
2022 – The Canadian Association of Physicists (CAP) is pleased to announce that the Allan Carswell Physics Educator Scholarships are being awarded to two outstanding aspiring physics educators: Éloïse Faehndrich and Eli Sollid.
View the official announcement here. 
Next Scholarship
Applications for the 2024 scholarship will be accepted from November 6, 2023 until February 4th, 2024.
Click here for instructions on how to access the application submission system.
Although the CAP's nomination system currently has an English-only interface, nominations may be submitted in either English or French.  The CAP is committed to ensuring that applications submitted in either official language are treated equitably. Furthermore, the CAP commits to ensuring that those evaluating awards will have a thorough understanding of the impact of bias to take it into account while reviewing nominations.
The application must be submitted using the CAP's online application process accessed by logging into Member Services https://cap.ca or https://crm.cap.ca and selecting "Medal/Scholarship System" under "CAP Services".
Any questions about the scholarship should be directed to programs@cap.ca.
Eligibility and Criteria
Each Applicant Must:
Have graduated from, or be in the final year of, a physics degree at a Canadian university. Eligible degrees include: an undergraduate degree with a physics major, or any graduate degree in physics.
Have applied to, or will apply to, a post-degree teacher training program at a Canadian university for the upcoming academic year. Eligible programs are those which, upon completion, are required to obtain a teaching license in the relevant province.  [NOTE:  Anyone who is already enrolled in an education program at the time of application is not eligible to apply for this scholarship.]
Have strong academic credentials and a demonstrated passion for physics and physics pedagogy.
Provide a minimum of two letters of reference, a validation form signed by Physics Department Head/Chair confirming enrollment or graduation, and latest transcripts.
Write one page (500 word maximum) explaining why they are interested in this scholarship and how winning the scholarship will make a difference
All eligible applicants with strong academic records who love to share their passion for physics are encouraged to apply, including those from groups that are under-represented in physics.
Background
The global economy has evolved to become more dependent on innovation as we face challenges ranging from climate change to the medical needs of an aging population. Those with a physics education are ideally suited to solve the problems of today. Yet the impact that physics and those with a physics education have on everyday lives is not widely understood.
The Allan Carswell Physics Educator Scholarship will raise awareness at all levels of society that physics education is a vital, highly valued and rewarding career path while reinforcing the fact that a major in physics is valuable for many careers, not just research. Educators at all levels are crucial in that they must provide students of all genders and backgrounds with the passion, confidence and science literacy that will inspire them to seek out and succeed in gaining a physics education at the university level.
The Allan Carswell Physics Educator Scholarship is designed to increase the number of highly qualified and dedicated physics teachers by, on the one hand, encouraging physics majors to pursue an post-degree teacher training program and, on the other, encouraging physics educators to first complete a BSc in Physics before enrolling in the teacher-training program of their choice.
About Dr. Allan Ian Carswell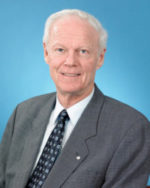 Allan Ian Carswell (CM, FRSC) is an internationally recognized pioneer in the field of laser radar (lidar). In 1974, Dr. Carswell founded the company, Optech Incorporated, which grew to over 300 employees. Optech was acquired by Teledyne Technologies in 2015 and continues as Teledyne Optech, an international leader in laser instrumentation. Dr. Carswell was elected as a Fellow of the Royal Society of Canada and became a Member of the Order of Canada in 2005. He served as the President of the Canadian Association of Physicists during 1985.