FINAL CALL FOR ABSTRACTS – DEADLINE 23h59 PST SUNDAY MARCH 3RD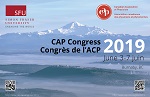 The CAP 2019 congress will be held at Simon Fraser University from June 3-7, 2019.
There are only four (4) days left to submit an abstract for the 2019 CAP Congress! To be considered for an oral presentation, your abstract must be submitted by 23h59 PST, Sunday, March 3, 2019. There are limited time slots available for oral presentations, and poster submissions are a viable alternative. Post-deadline poster abstracts will be accepted if space remains once the abstracts submitted on time have been processed. For more information, please visit the Congress abstract system.
SCHEDULE IMPROVEMENTS
This year we've made exciting new additions to the schedule as well as featuring high profile speakers, cutting-edge physics, lab tours (TRIUMF, SFU, and local industry) and special sessions on science policy, funding, careers in industry, and diversity and inclusion.
STUDENT PRESENTATIONS AND COMPETITION


Students – don't forget to enter one of the competitions for poster or oral presentations. CAP membership is required to participate.
For more details on the competitions, including instructions on how to enter, visit our Congress competition webpage.

2019 HERZBERG AND PLENARY SPEAKERS
We are pleased to announce our Plenary Speakers:
Dr. Donna Strickland, 2018 Nobel Laureate in Physics – University of Waterloo, "From Nonlinear Optics to High-Intensity Laser Physics"
Dr. Andrew Weaver – Simon Fraser University, "Global Warming: A Question of Priorities"
Dr. Na Ji – University of California, Berkeley, "Imaging the Brain at High Spatiotemporal Resolution"
Dr. Cora Dvorkin – Harvard University, "New Frontiers in Cosmology"
Dr. Michael Thewalt – Simon Fraser University, "How is silicon-28 a "semiconductor vacuum"?"
Our Herzberg Public Lecture will be given by Dr. Manu Prakash – Stanford University, "Frugal Science in the Age of Curiosity" (Check out Dr. Prakash's TED talk).
Please check the 2019 CAP Congress page as we continue to update the list and details about our plenary and invited speakers.
SYMPOSIUM DAY – TUESDAY, JUNE 4
This year the Congress will feature special one-day symposia on cutting-edge topics on Tuesday, June 4.
Abstracts may be submitted for consideration for these symposia. Any abstracts that cannot be accommodated within the symposium will be passed on to the Chair of the appropriate Division for consideration as a contributed abstract in another session during Congress.
SPECIAL EVENTS AND MORE ...
Talks by CAP medal winners
Plenary session on equity, diversity and inclusion in physics
Science Policy session
Presentation by NSERC representatives and physics Evaluation Group chair
CAP Presidents Report and Annual General Meeting
CEWIP session in memory of Dr. Li-Hong Xu
Poster session and poster competition
Department Leaders Business Meeting
Student-Industry Meet & Mingle
A full listing of programming, events and other information will be posted on the 2019 Congress website when it is available. Bookmark this page and check back regularly for updates.
ACCOMMODATIONS – Special rates available until April 17
Block bookings for accommodations with special Congress room rates have been arranged at on-campus residences and townhouses as well as two selected nearby hotels. Book BEFORE April 17th to guarantee your room at Congress rates. After that, room bookings are subject to availability and regular high season rates will apply.
The on-campus accommodation booking system for the 2019 CAP Congress will be available beginning the first week of March. For more information please go to the CAP website.