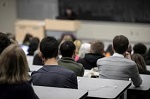 The 2018 Cap Lecture Tour is now underway at universities across Canada. This program brings unique and interesting talks to undergraduate students on a wide range of physics topics. The program allows physics departments to strengthen collaborations with the CAP, helps to increase our organization's visibility and promotes student membership.
Each Lecture Tour speaker was nominated by their department chairs or colleagues for their dynamic and engaging presentation styles.
The full schedule of confirmed speakers and event dates can be found on the CAP website.