The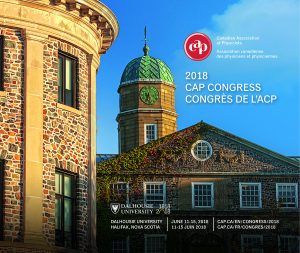 CAP invites you to register for the 2018 CAP Congress at Dalhousie University in Halifax, Nova Scotia on June 10-15.
Membership benefits
There are significant savings for CAP members and delegates who register before midnight EST May 7th. You must have a valid CAP membership at the time of registering for Congress in order to qualify for CAP Member and Affiliate rates, and to compete in the Best Student Presentation Competition.
Please note: new and renewing membership applications must be received by the CAP Office no later than midnight EST Sunday, April 29th to ensure they are processed in time to benefit from early registration rates for members.
 Pre-registration information
To make the registration process as easy as possible, please visit our pre-registration tips page before your register for important information about:
Updating your CAP membership
Early registration discounts
Confirming the status of your abstract submission
Consulting the program schedule
June 10th events including Soft Matter Canada 2018 and the Physicists in the Workforce graduate workshop
Signing up for the Eduroam Wi-Fi network
CAP Medalist Award Banquet
Lab Tours
Information about discounted accommodations, local eateries, Halifax tourist highlights and more can be found on the 2018 CAP Congress website.
Congress Highlights
Our Herzberg Public Lecture will be given by Dr. Nergis Mavalvala from LIGO/Massachusetts Institute of Technology. Please check the 2018 CAP Congress page as we continue to update the list and details about our plenary and invited speakers.
A full listing of programming, events and other information will be posted on the 2018 Congress website when it is available. Bookmark this page and check back regularly for updates.
We look forward to seeing you in Halifax this June!