The CAM Conference is a joint meeting of the Canadian, American and Mexican Physical Societies which is held every second year, cycling between locations in Mexico, the United States, and Canada, with Canada hosting the CAM conference every sixth year (click here for a history of locations/attendance).
The conference focuses on the research done by graduate students. Plenary contributions from established scientists will also give the student participants exposure to ongoing research in diverse sub-fields. Students share the results of their research with senior scientists and international peers in their own field, as well as with those focused on other disciplines within physics. The aim of the CAM Conference is to provide an outstanding opportunity for students to develop professional skills, learn a broad range of physics topics, and initiate interactions across geographical borders. Furthermore, it will foster communication and exchange of ideas among students of various backgrounds and interests.
CAM 2017
The 2017 CAM conference will be held from August 17-19 in Washington, DC, USA. The APS is responsible for organizing this conference. The CAP's representative on the organizing committee is the CAP's Councillor representing graduate student members, Christopher Pugh from the University of Waterloo (cpugh@uwaterloo.ca).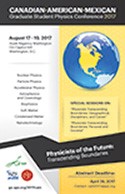 This is a wonderful opportunity for students to present their research to other students and to build relationships with researchers around North America.
Abstract submission is open – REVISED DEADLINE: May 31, 2017
(for Canadian students)
As part of the abstract submission process, a letter of support from the student's supervisor stating that they support the student's presentation at this conference as well as agree to help cover the costs of the student's attendance is required. The Canadian coordinating team is currently working on securing some funding to help offset the costs to each graduate student who attends.  Students must be CAP members and have an accepted abstract to be eligible.
Other Documents
Abstract (maximum of 1500 characters, uploaded in PDF format, example can be found on website).
Letter of Support from your supervisor (this letter should state that your supervisor will cover costs of the conference including travel, registration etc. as well that they support your presentation. No abstract will be accepted without this letter. Not to exceed one page).
Curriculum Vitae (maximum two pages)
Submit to: https://www.aps.org/units/fgsa/meetings/cam.cfm and select "Canada Application." Revised deadline for submission of abstracts is 2017 May 20.
Students from Mexican, U.S., and Canadian "institutions" can attend without a focus or requirement of citizenship or residency.  Visit https://www.aps.org/programs/international/visa/visitors.cfm for useful information about Visas ofr travellers visiting the U.S..
Some travel subsidies will be available via a grant from the CAP Foundation.  An application form will be provided to any Canadian student who is a CAP member and has an accepted abstract for CAM2017.
Once the abstract submission deadline has closed, all abstracts which included the letter of support from the supervisor will be reviewed. The final acceptance letters will be issued in late May. Registration will start after this process is complete.
More details regarding CAM2017 are available on the APS website at https://www.aps.org/units/fgsa/meetings/cam.cfm